About Mr Moriarty
Mr Brendan J. Moriarty MA (Cantab), MB, B.Chir, FRCS FRC Ophth, MD qualified in medicine from Cambridge University. He trained in ophthalmology at the Bristol Eye Hospital, the Western Ophthalmic Hospital (London), the Prince Charles Eye Unit (Windsor) and St Paul's Eye Hospital (Liverpool). In 1987 he was appointed as fellow to the Dept. of Glaucoma at the Moorfields Eye Hospital in London. He was head of Glaucoma at Leighton Hospital in Crewe for over 20 years.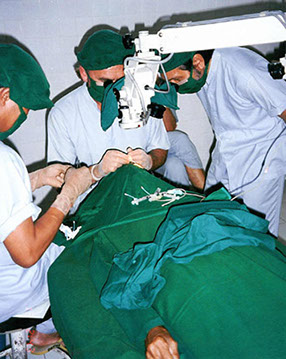 He also has extensive experience in third world eye care and was Medical Director to Project ORBIS, the internationally renowned 'flying eye hospital'. He remains a visiting expert in glaucoma and cataract surgery to Project ORBIS and is a regular volunteer and advisor. In addition, he spent two years as fellow to the Medical Research Council, devising laser treatment to prevent blindness from sickle cell disease. During his time in Jamaica, he established free cataract facilities and introduced the rubella prevention programme to tackle childhood blindness. He was recognised for this work by the International Man of Achievement award in 1989.
His special interests are cataract surgery, glaucoma and laser treatment of floaters and visual rehabilitation in macular degeneration. He is a member of the UK, European and American Societies of Cataract and Refractive Surgeons and he is regularly invited to lecture internationally on glaucoma and macular degeneration. NICE, the National Institute for Clinical Excellence, have recently recognised Mr Moriarty's expertise in surgery for Macular Degeneration by appointing him Special Advisor.
Mr Moriarty is married with three children. His hobbies include tennis, golf, fell walking, rhythm and blues (guitar and harmonica), Amnesty International, travel and reading. He was recently a contestant on Mastermind, specialist subject was Winston Churchill. He aims to return to his interests in teaching in the developing world when family commitments allow.
Download Brendan's CV here (PDF)
Project ORBIS
The ORBIS flying eye hospital is a DC-10 jet which has been converted into a self-contained teaching eye hospital. ORBIS works in developing countries to save sight through hands-on training, public health education and improved access to eye care.
During the time that Mr. Moriarty was the Medical Director of this project, the hospital flew to 12 locations where training was offered to local nurses and doctors, and surgical eye care was given to those who required it. Such surgery would be unavailable to these people any other way.